Recently, I visited Mt. Airy, birthplace of TV legend Andy Griffith. I've always been a big fan of the show, so when I had a chance to visit the town, I made a bee-line to his childhood home. I was hoping against hope that one of my all-time favorite TV stars had been born and raised in a kit home.
I had this fantasy of finding that Andy lived in a little Sears Crescent or a Montgomery Ward Newport, and that (like most kit-house homeowners), had never been told about the interesting origins of his home, and that when I sent him a nice letter explaining my amazing discovery, he'd immediately ring me up and plead with me to come visit him and his dear wife Cindi at their beautiful home in Manteo.
In my dream, I'd make that one-hour drive from Norfolk to Manteo giddy with glee and joyous anticipation. Mr. Griffith would greet me at the door wearing an over-sized wool cardigan with leather patches at the elbow, and that trademark, million-dollar smile.  He'd hastily invite me into his "sitting room" where he'd pore over the stack of books – MY books – that I'd brought for him to read and study. He'd blush with excitement when I offered to personally inscribe the books, chuckling a bit when he added, "Hey, would you put in there, 'to my very best friend, Andy.'"
And our visit would be so pleasant, that he'd look into my eyes and plead with me to stay and have supper with them out on the deck overlooking the waterways of Roanoke Island. While pondering the question,  I'd look out the expansive windows in his sitting room, taking in the natural beauty of  Northeastern North Carolina and just let out a soft sigh.
"That depends," I'd say, proudly donning my best southern poise and grace. "Is Aunt Bea cooking tonight?"
But alas, all my hopes were dashed when I saw that my hero – my favorite TV character of all time – did not live in a kit home.
Here's a few of the pictures I took while I was in Mt. Airy on my summer vacation.
And Mr. Griffith, if per chance you read this, I'm free for supper. In fact, I'm free all this week. And next week, too. And the week after that looks open, too. And the week after that…
Poor Andy does not live in a kit home. Tsk, tsk.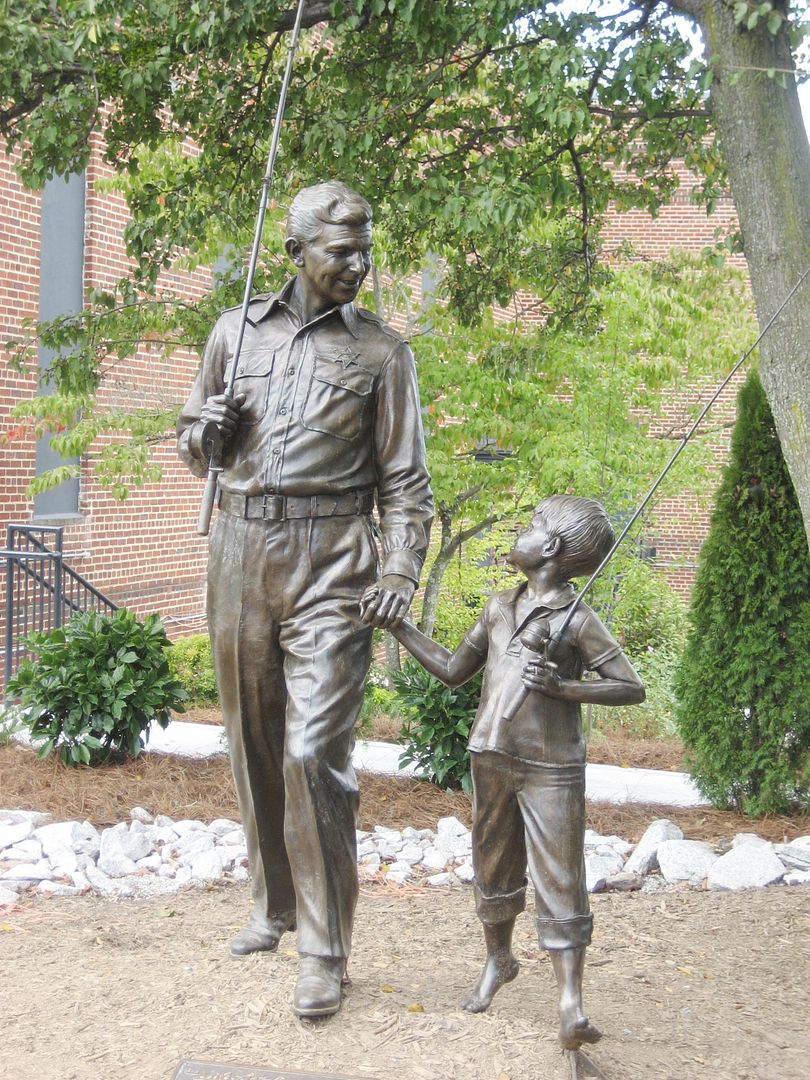 This larger-than-life size statue sits in front of the Mayberry Museum in Mt. Airy.
To read more about Wardway Homes, click here.
And Mr. Griffith, if you're reading this, please click here and leave me a comment. I'll get right back to you. 
*  *  *